Site preparation for Outdoor Saunas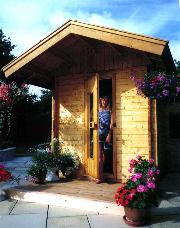 Outdoor Sauna on existing patio - easy!

Stepping-stones to Sauna by the lawn

Sauna and Spa in specially created setting
Our Outdoor Saunas and Spa-pools are substantial items, and thus will be easiest to install and enjoy if built on a properly firm, flat and level base.

An existing patio, deck or other hardstanding may already be nicely suitable, and often is!

(Check that it can bear the weight of items concerned, and that it is flat and level)

Weights of Outdoor Saunas:
Kuikka appx 800 kgs (1760 lbs) with 4 under-bearers

Notes for preparation of other (e.g. 'bare earth') sites:

OUTDOOR SAUNAS:
The weight of an Outdoor Sauna is carried by the under-bearers which are intended to be evenly supported over their full length.
Underbearers are 50 x 100mm (appx 2 x 4") timbers
Thus a level solid base of the 'Base Slab' dimensions given in each cabin's details is best.
The actual construction of the base slab will be very much influenced by the site itself; e.g. the firmness of the existing ground. The ideal is a level concrete slab (or equivalent) which can be simply formed between planks - its thickness may typically be appx 100mm (4")
- if in doubt, seek local advice/assistance from a builder or handyman.

Site loadings for Outdoor Saunas are in the range 150 to 200 kgs per square metre (appx the equivalent of three people standing close together)



Please be aware that problems arising from the installation of Outdoor Saunas on insufficiently strong, non-flat or non-level sites will not be covered by warranty.