Sauna Stones - Boxed, 20kgs

Genuine Finnish Sauna Stones - Click to enlarge

A Sawo wall-mounted Stove filled with appx 20kgs Stones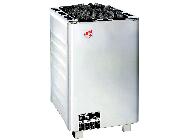 Larger free-standing Stoves like this may take up to 3 boxes

The larger Commercial Stoves may need up to 5 boxes - the Owner's manual will have the necessary information
Genuine Finnish Peridotite Stones, graded especially for the Sauna

As with everything from SaunaShop - exactly the right product for the job!

Some notes about care and renewal of Sauna Stones:

Sauna Stones have a tough life; gradually they break down, settle and compact in service, resulting in performance degradation and risk of causing premature failure of the heating elements. It's good sauna care to take them out and wash them periodically, at the same time removing any broken-stone debris etc from the stove heating chamber.

If the tops of the elements show "grinning" above the upper surface of the stones, it's usually a sign that the stones are in need of renewal - note also that this 'bare element' situation can present a fire or injury risk.

It's also a good plan to replace the stones whenever the elements are being replaced - if nothing else it saves doing the work of removing and replacing all the stones twice!

New Stones:

Always rinse new stones in a bucket of clean water before putting them into the Stove - this removes any dust and small flakes resulting from transit. Don't force them between the elements of electric stoves (better they are a 'loose' fit) to avoid undue stress on the elements when heated. Some stones may be 'left over' when the stove has been filled - keep them for use later, when the stones have settled. In general, it's better to have 'too many' rather then 'too few' stones, however avoid over-piling and the risk of hot stones falling off the stove in service.

IF IN ANY DOUBT - REFER TO THE STOVE MANUFACTURERS INSTRUCTIONS , OR CALL US !

Quantity required:

Supplied ready boxed at appx 20kgs - this is the right quantity for most wall-mounted stoves
If in doubt, check the stove manufacturer's manual. Rocks are 5-10cm diameter.

Most floor-mounted (commercial) stoves, woodburning stoves, etc will require a number of boxes (perhaps up to five, 100kgs) - again, consult the maker's manual

Manuals for all our Stoves are downloadable from their own product pages on this website - all accessible by clicking here


Box dimensions: appx 400 x 300 x 150mm


We're here to help too - on 01722 746050 in normal office hours

Safety note: Please don't be tempted to use other types of stone...
Price
(inc VAT):
Item Name
Code
Price
To see delivery costs 'Add' any mix of products to your Basket
20kgs Sauna Stones (boxed)
SSST-20
£24.00
Features:
Genuine Finnish

20kgs Boxed

Selected Peridotite Stones
Suitability:
More products in More Accessories - and 'Treats'! »
8 Related products: