'Built-in Control' Stove won't heat?

Sawo Nordex (NR) type Stove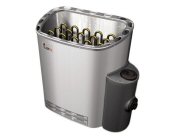 Sawo 'Scandia' (SCA) type Stove

Scandia (SCA) wiring diagram - Click to enlarge

Download the Installation and Operation Manual for Sawo 'NR' type Stoves (0.27Mb)

Download Installation & Operation Manual for the Sawo 'Scandia' (SCA) type Stoves (1.06Mb)
This will probably be quick and easy to rectify; all SAWO stoves are individually tested for full functionalty at the SAWO factory (and the results recorded by serial number) so it's very unlikely that there will be a product fault.

We suggest first to check the five points below - you'll probably be enjoying normal operation very quickly!
POINTS 1 + 2 Can be checked by the home user.
POINTS 3, 4 + 5 - Utilise a qualified electrician for internal investigation - SAFETY FIRST.

Safety first - before accessing any internal parts, the mains supply must be switched off! If unsure, get your electrician's help.

FIVE-POINT CHECKLIST:

1) Is the mains supply connected and switched on?
If so, please check these points:

2) CONTROL SETTINGS:

Note that the 'Timer' Control has two functions:
On the Timer dial, the numbers:
1 to 4 in RED are HEATING HOURS
1 to 8 in WHITE are DELAYED START HOURS

A common 'problem':

If the Timer Switch is wound beyond the RED numbers into the WHITE numbers (feel a resistance and hear a soft 'click' at the transition point) - the stove will start to heat only after the number of 'white' hours has expired.
e.g. If Timer is set to '8', heating will start in 8 hours' time. (If mains power is connected*)

Note: The Timer Switch can be re-set by at any time by turning it in either direction.
* The timing function is electrically powered (not clockwork) thus the supply to the stove must be 'on' for the timer functions to operate.


-------------------------------------------------------------------------------------------------------------
FROM THIS POINT ONWARDS - USE A QUALIFIED ELECTRICIAN.



3) MAINS INPUT WIRING CONNECTIONS:

NB: The supply must be isolated before accessing the connection terminals!
Correct: Supply Live to ALL THREE Live Terminals
(Single-phase 220-240v: Use supplied 3-pronged copper 'link' plate)
(Three-phase 380-415v: One phase to each 'live' terminal separately, the copper 'link' not used)
Correct: Supply Neutral to Neutral Terminal/s
Correct: Supply Earth to Earth Terminal

A common connection error:

Mains Live is connected to 'K' Terminal ('K' terminal is not normally connected)
Note: If a live input connection is made to 'K' - the stove will not operate correctly.
(Click here for more information on Terminal 'K')

4) THE TIMER DOESN'T WORK, THOUGH THE STOVE SEEMS TO HEAT
This is usually a result of 'K' being connected as in (3) above, also see (5) below


5) ONLY ONE ELEMENT HEATS and/or THE TIMER DOESN'T WORK
This is usually a result of (2) and/or (3) above.
Check particularly that Supply 'Live' does go to ALL THREE Live terminals on the Stove, and that 'K' has not been connected to 'Live' supply.


If after checking all the above five points, there still appears to be a problem with a NEW stove purchased from the SaunaShop , please Contact Us at any time or call 01722 746050 during office hours.
More products in Technical Hints & Help »
1 Related product: